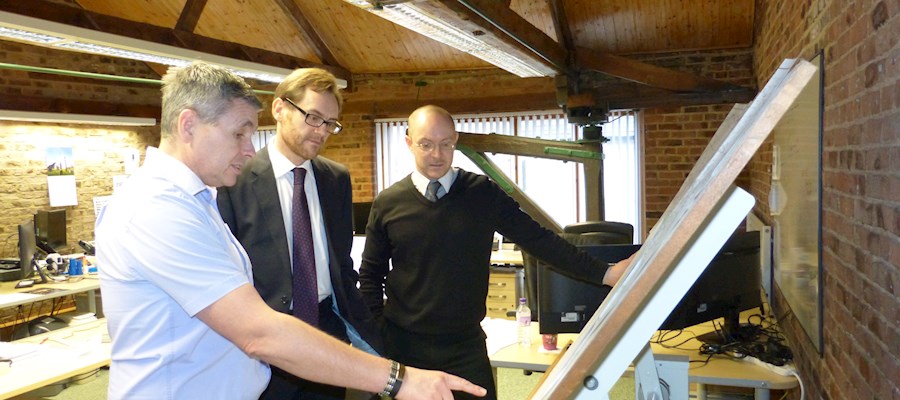 AN HISTORIC building in the heart of Beverley town centre is the new headquarters of an expanding firm, which is taking a lead in major regional developments.

When an old granary and former bakery – marketed by managing agents Scotts - became available, it was the first choice of the directors at Crosby, Ferguson & Medcalf Ltd, whose company is behind the design and management of infrastructure, including busy roundabouts, road networks and town centre re-modelling.
Shunning the offer of modern, glass-fronted business units, the directors felt it was important to have a town centre headquarters. The three-story listed office and design studio at 33 Lairgate still has reminders of its past – with a grain-lifting hoist on the third floor and old wooden beams.

"This building is a wonderful piece of history and what better place to be, it is close to many of the projects we are involved with and for us, just right," said director Iain Ferguson.

Partner at Scotts, which has offices in Hull and Grimsby, Tim Powell welcomed the move.

"When you look around this area of Beverley it is predominately retail and therefore, to see a firm such as Crosby, Ferguson & Medcalf Ltd make the move here, is to be applauded. The presence of such companies here brings a different flavour and mix, which is very important for any vibrant town. We look forward to seeing the company settle and grow here," said Mr Powell.

Iain and fellow partners Mike Medcalf and Steve Crosby have expanded the business to a workforce of 27, with an interest in supporting and developing talented young people.

Since the company's inception a decade ago, it has been involved in some of the major road and town centre improvement works in the East Riding. The new-look for Beverley Market Cross, including the lay-out, street furniture and lighting, was designed and executed by Crosby, Ferguson & Medcalf Ltd. Outside the town, major improvement works to a whole swathe of East Riding's A-roads is also the work of the firm.

"Motorists will see a significant difference when this work is completed, with substantial, quality and long-term improvements," explained Mike Medcalf.

As Crosby, Ferguson & Medcalf Ltd looks at further expansion into private sector road layout schemes, for projects including larger housing or industrial estates, its ambition is to train the next generation of developers and designers.

Another string to the firm's bow is the management of flood alleviation scheme construction, with work either carried out, or planned, in Willerby and Derringham, Anlaby and East Ella, and Cottingham and Orchard Park.

"As we endeavour to further expand our portfolio in both the public and private sectors, we also look to bring the next generation along with us," added Mr Ferguson.